In this step-by-step image tutorial, we'll show you exactly how to make a map in Minecraft. Also check out our video tutorial on how to make a Minecraft map. As a bonus, we'll also guide you through the book command.
Minecraft maps can help you explore the terrain. The map recipe we're using below even has a location marker so you can see your position on the map.
Let's start!
Available Platforms
| Edition | Platform | Available |
| --- | --- | --- |
| Java Edition | Windows, Mac & Linux PC's | Yes |
| Bedrock Edition | Xbox One, Nintendo Switch, iOS, Android, Fire OS, Windows 10 PC's | Yes |
| Education Edition | Mac, iOs 12, Windows 10 PC's | Yes |
| PlayStation Edition | PlayStation 3 & 4 | Yes |
Tools & Items Needed
Steps To Make A Map
1. Open Your Crafting Menu
Open your crafting table in Minecraft. You should see the 3×3 grid like in the image below.
2. Add Papers and Compass
On the artboard, add the 8 papers and the compass to the grid.
It is important to add the items to the grid exactly as shown below.
After you add the items to the grid in the correct order, you will see a card appear in the box on the right.
3. Move The Map To Your Inventory
We just need to move the map to our inventory.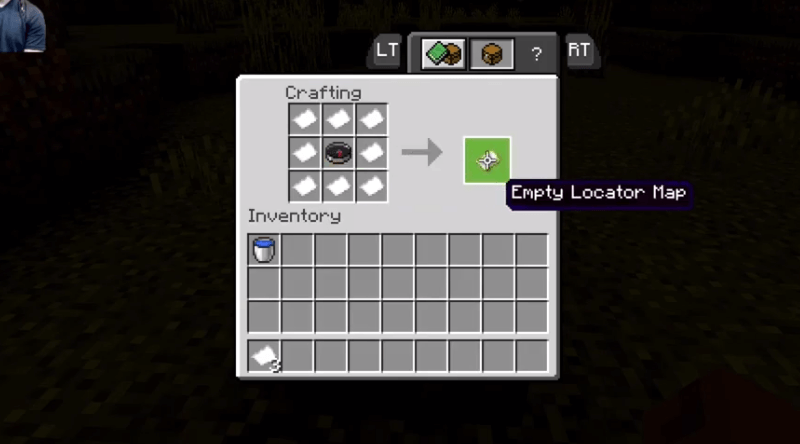 Now you have a map! Use your Minecraft map to explore the terrain.
Minecraft Map Command
You can also command a map in Minecraft. The map command is available in the following editions:
Java edition
Pocket edition
Xbox One
Nintendo Switch
Windows 10 Edition
Educational Edition
To execute the map command, open your chat window and enter the appropriate command below:
Java Edition 1.13 and higher
/give @p map 1
PE, Xbox One, Switch, Win 10, Education Edition
/give @p emptymap 1 0
---
FAQ's
1. How do you make a full map in Minecraft?
To upgrade your map to an even larger size, you need to upgrade your map from Level 1 to Level 2. Add the Level 1 map and 8 more paper to the 3×3 crafting grid. The newly crafted map will now be even larger and will be upgraded to a Level 2 map. When you open this map, only a portion of the map will be filled in.
2. How do you make a map in Minecraft?
Crafting a Map in Survival Mode
Step 1: Go to the Crafting Menu. The first step is to load a crafting table so that you have a 3×3 crafting grid.
Step 2: Add Items to make a Map. When you open the crafting menu, you will get a crafting area that is made up of a 3×3 crafting grid.
Step 3: Move the Map to your Inventory.
3. How do you use a Minecraft map?
For Java Edition (PC/Mac), right-click.
For Pocket Edition (PE), tap on the Create Map button.
For PS3 and PS4, press the L2 button on the PS controller.
For Xbox 360 and Xbox One, press the LT button on the Xbox controller.
For Windows 10 Edition, right-click.
4. Is there a map in Minecraft?
In any game, maps are there to help you navigate the world. In Minecraft, the maps do the same thing. They're handy, particularly in the game's multiplayer and survival modes. The maps in Minecraft don't do anything special – they show you the surrounding area and help you find your way.
5. How do you make a map with a cartography table bigger in Minecraft?
You can add paper 4 times to a map in the cartography table which will give you the largest map possible in the game. Just move the map (from the result box) back into the top slot and then add another paper. This will make an even larger map.
---
How To Make A Map In Minecraft Video Tutorial
In this video,we will show you how to make a map in minecraft.
More Basic Recipes